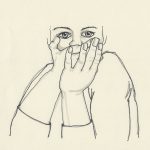 This framework is useful to get a conversation going about how people talk about their work. and how others tell others what to do and on what basis they make these demands. You can use it to explore:
the gap between people's experience of work, and what they say about it in public;
how managers use their imagination to narrow this gap; and
how this always incomplete understanding, is used to develop rules and policies about how work should be done.
This approach helps people be curious about the way people talk. An approach that means paying attention to what is left out and therefore who or what is at risk of being silenced (and by what means this silencing is archived) in everyday conversations.
Slide 2 suggests that what people do or tell others what to do is linked to what is required.  As in, what do I need to do for this person in front of me right now to help them? This slide is a reminder that this gap between what we do and what's required also needs investigation. As in how prescriptions about work may conflict with what others thinks needs doing. Again, it means paying attention to how such a conflict is worked through or is silenced.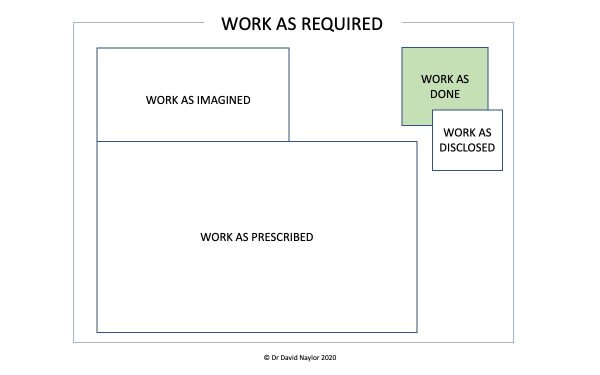 Slide 3 is a reminder to be curious about what may lead people to limit their disclosure about their experience of work as done. To be curious about what prevents people from saying more.  Is it fear concerning a dominate 'work as imagined'/'prescribed' axis?  As managers struggling to connect to peoples lived experience? If they are what wider organisational purpose may be being served or managed?
Slide 4 is a way of describing a more balanced situation.  The focus is on increasing the volume and range of what is known about what people do and being less reliant on imagination and prescription.  Rooting what is prescribed more firmly in a conversation about the meaning of the data from people delivering services.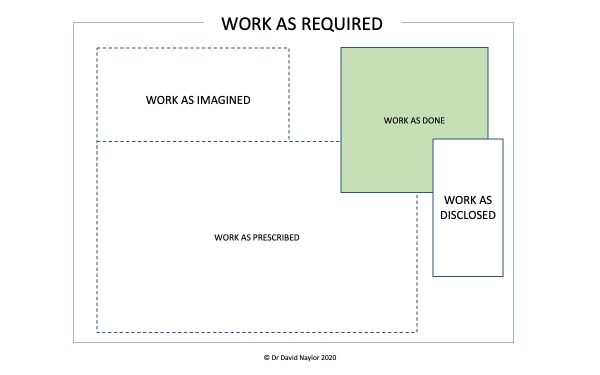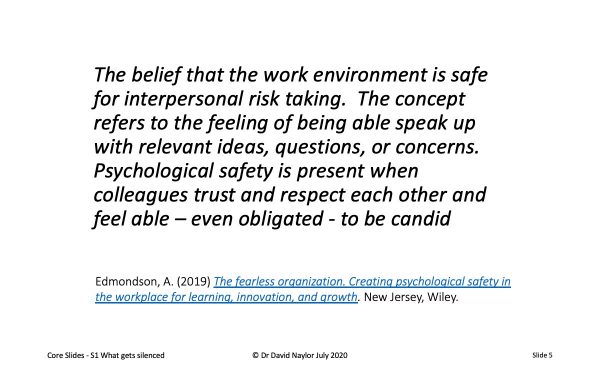 Slide 5, quoting Amy Edmondson's 'The Fearless organization', states the obvious. To say more about your work, you have to feel safe enough because what you say may question the logic of work as prescribed. This slide also helps to question the simplistic assumption if you talk about psychological safety this will somehow create it. If you want to help people feel safer you have to investigate why the why and how of people being silenced. Then you can begin to unravel the purpose of silencing behaviours.
These questions (slide 6) can help with the unravelling. What will people say and, more importantly, how will people react when others speak more freely and what motivates them? Most people are kind but can find themselves doing the opposite.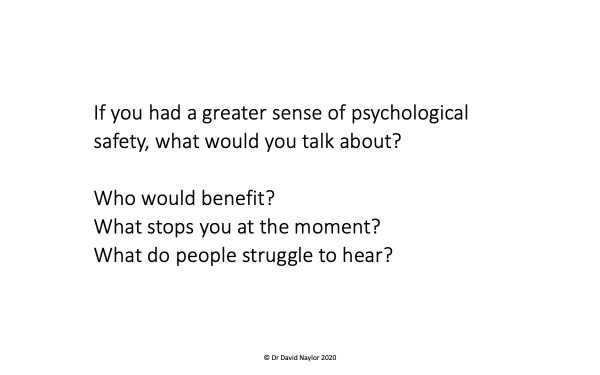 Get in touch
Trying to find a way to deal with unprofessional behaviours can feel daunting. If you would like to chat to me about how I or my colleagues could help, you can contact me here.